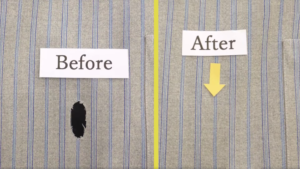 The video of "Kaketsugi", which was introduced at the Japan Society NY event in May 2019,
received more than 40000 "Like!" In just over two weeks after its release.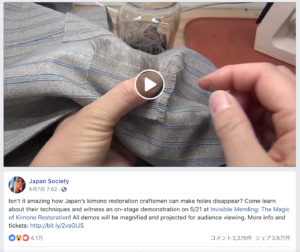 It is possible to apply for this "Kaketsugi" from Japan as well as from overseas.
To use the "Kaketsugi" service from overseas …
1)Please apply from the link to the application form below.
2) Please send the clothes you want to "wrap" to the address described in the email.
3) Once the clothes have arrived, you will receive an email with a quote and a payment link.
4) Once you have accepted the amount, we will send you a link that allows you to pay by credit card.
5) Once you can confirm the credit card payment, you will be asked to enter "Kaketsugi".
6) We will send back your clothes once the "Katsuchi" repair is complete.
Approximate fee for "Kaketsugi"
Hole size within 0.5 cm   $136+shipping
Hole size within 1 cm  $180+shipping
Hole size within 1.5cm  $225+shipping
Hole size within 2cm  $272+shipping
Hole size within 2.5cm  $317+shipping
Hole size within 3cm  $362+shipping
※ Please note that rates will change depending on the conditions of the fabric and repair area.
※ In the case of a hole of 3 cm or more in size, we will estimate separately.
※ Please allow at least one month for the number of days it takes for "Katsuchi".
Click here for the application form.